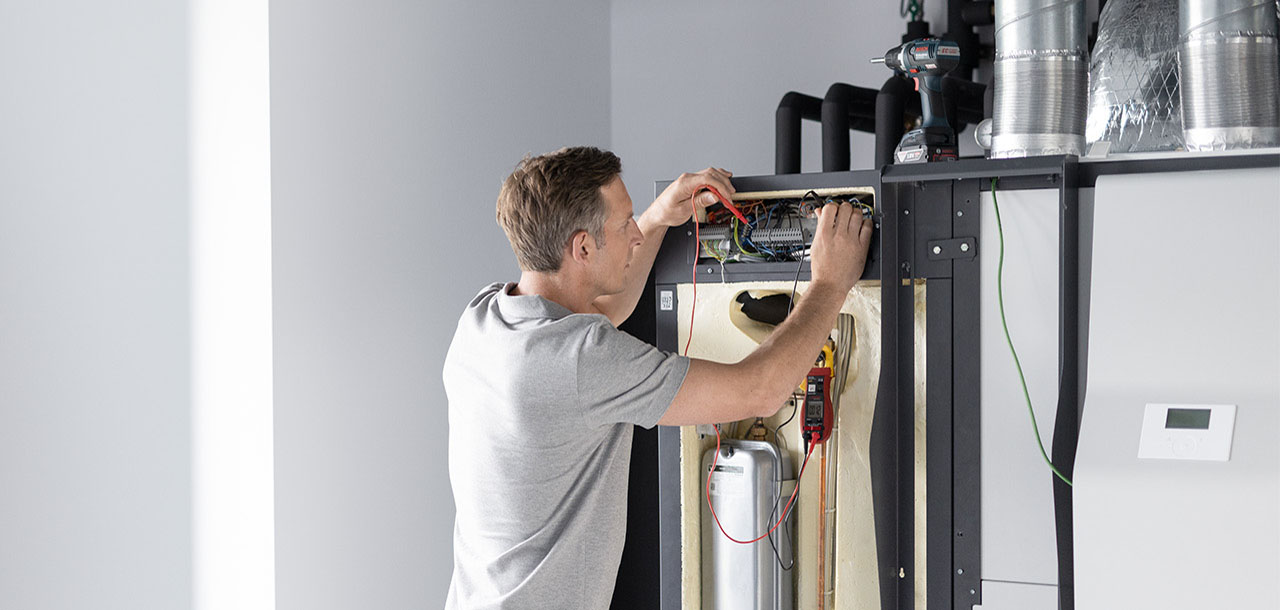 STIEBEL ELTRON as an employer
Sustainable wellbeing – be part of our mission to advance green technology and boost your future prospects
Sustainable wellbeing
Power from renewables is the future. As a globally expanding family business with more than 4000 employees, we advocate innovative, environmentally responsible and sustainable building services. Work with us to develop green technology – for a sense of wellbeing now and in the future.
How we see ourselves
With the development of the coil immersion heater in 1924, Dr. Theodor Stiebel revolutionised domestic hot water heating, and improved the lives of householders all over the world. A revolutionary product at the time, it laid the foundation for the company and inspired us in our clear mission: to use engineering skills to create innovative products of the highest quality.
Since then, one side effect has increasingly been a focus of our research: resource conservation through the development of products with substantially lower energy consumption and higher levels of efficiency, as well as the utilisation of renewable energy sources. STIEBEL ELTRON has now grown to become a leading manufacturer and supplier of high quality products for building services and system design.

Our creativity and our pursuit of technical and qualitative optimisation are still very much in evidence. We believe that if you don't go forwards, you go backwards. To us, going forwards means designing products with the aim of providing the greatest possible benefit for humanity and the environment.
In our quest to drive forward innovation and progress, we are always looking to welcome new employees to our team at STIEBEL ELTRON. If you would like to invest your energy in generating a better future, we would be pleased to hear from you.
Work-life balance
'Work' and 'Life': Let's create a healthy balance. Reconciling private and professional life is an integral part of our personnel policy. We create an attractive working environment for our employees, which can be flexibly adapted to their personal plans and interests in mutual coordination. And vice versa.
We have already implement a strategy to fulfill the demands of mothers and fathers and to help in better balance of work and personal life. Within the framework of parental leave, we create meaningful representation models and assist our young parents in finding a daycare close to the firm.
STIEBEL ELTRON helps to remove the obstacles in the compatibility of job and family. Families are our private retreat and force fields.
Working environment and prospects
Work-life balance is our great concern here in Vietnam, the country has been ranked among the best destinations for a successful expat career thanks to good work-life balance and employment benefits. We provide a wide range of growth and leisure opportunities in addition to intriguing duties with plenty of freedom and responsibility.
We offer our employees a wide range of challenging tasks, innovative projects and prospects for personal development. Our aim is to create a motivational working and living environment for our employees and to help them build up professional pathways and careers in the long term. We invest in advanced training and the enhancement of individual skills; we offer our employees challenging tasks that enable them to realise their full potential. This is how the future is created – with our energy.